How to Customize Your Tiny House on Wheels
More Tiny House Options and Add-Ons
Solar Power Systems for Tiny Houses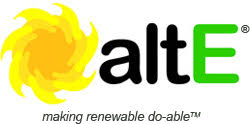 The lowest-cost energy supply for tiny houses is plugging into the grid through RV hookups.  However, RV hookups aren't always available, nor do they suit the needs or lifestyle of some of our customers.
For future tiny house owners who require solar power, we partner with Alt-E Store, a Massachusetts-based alternative energy system supplier.  You can find out more about their recommendations for tiny house solar energy here and plug your energy requirements into their load calculator to get an estimate of the amount of power you'll need in your tiny house and what your solar requirements will cost.  Solar power can be a complicated subject: Alt-E Store is a great resource for deciding what kind of a system and how much power you'll need.
Shou Sugi Ban Siding for Sale
B&B is pleased to offer siding for any size project using the Japanese woodburning technique, Shou Sugi Ban.  "While shou sugi ban (焼杉板) originated in Japan in the 18th century primarily as way to treat cedar siding to make it weatherproof, the technique—which involves charring a wood surface to render it a deep charcoal-black—has caught on recently as a treatment for contemporary exteriors and indoor furnishings alike. …The gravitas imparted by the process and finished result (called yakisugi) are undeniable, a blackening of the wood that reveals clean, distinct lines and an inherent textural beauty." – Architectural Digest
Contact us at (413)427-2686 for your shou sugi ban siding: $5 per linear foot of 1×6 shiplap.  We deliver locally.
Tiny House Trailers
DIY tiny house builders: we sell tiny house trailers!  Our trailers are specifically made for tiny houses and built to the highest safety standards.  Standard 8 1/2 x 20 foot tiny house trailers start at $4500: we also offer custom trailers.  We also offer tiny house frames and shells.  Contact us to let us know exactly what you need!