The planning & zoning board of the town of Great Barrington, MA is considering allowing tiny houses on wheels, or movable tiny houses, as Accessory Dwelling Units in the back yards of existing houses.
The tiny house amendment has gone through all the previous stages of approval: registered voters in Great Barrington will vote on whether to allow them at the annual town meeting on May 6.

Background Info:
Katie Jackson of B&B Tiny Houses was asked to do a presentation at a planning board meeting on what tiny houses are, how they work, and how other cities have written them into their zoning code.  Katie is also the Northeast Regional Director of the American Tiny House Association, which is hosting the open house on May 5.
Here's our previous update on Great Barrington's consideration of allowing tiny houses on wheels.
Here's an article on Great Barrington's Town Meeting from the Berkshire Edge. 
Most of B&B Tiny Houses' non-commercial customers have their tiny house in the backyard of a family member or friend, in a campground, or on rural land with permissible zoning.  Some people live in their tiny houses full time, while others use them as guest houses, vacation houses, housing for personal care givers, or as 
wheelchair-accessible additions
 so someone can live at home while recovering from a spinal cord injury or in-home hospice care.
—
Why do people want tiny houses?
Although tiny houses are on wheels, very few people travel with them like RVers.  Most people who want tiny houses are drawn to the very low cost of living and the low carbon footprint.  Others want tiny houses on wheels because they might move once every couple of years, like traveling nurses or those with academic professions.  Many who live in tiny houses find themselves spending less time at home and more time in their communities and the outdoors.
—
Why don't more people have tiny houses?
The biggest barrier to those wanting to own a tiny house is the difficulty of finding a legal spot to live in their house.  Since tiny houses are a relatively new phenomenon, most municipalities don't already have laws allowing tiny houses on wheels as residences.
Backyard tiny houses will add density without having to change the infrastructure of the town; it's the quickest, easiest solution (and one of many) that will address the housing crisis.
---
Here's Great Barrington's proposed zoning language pertaining to tiny houses: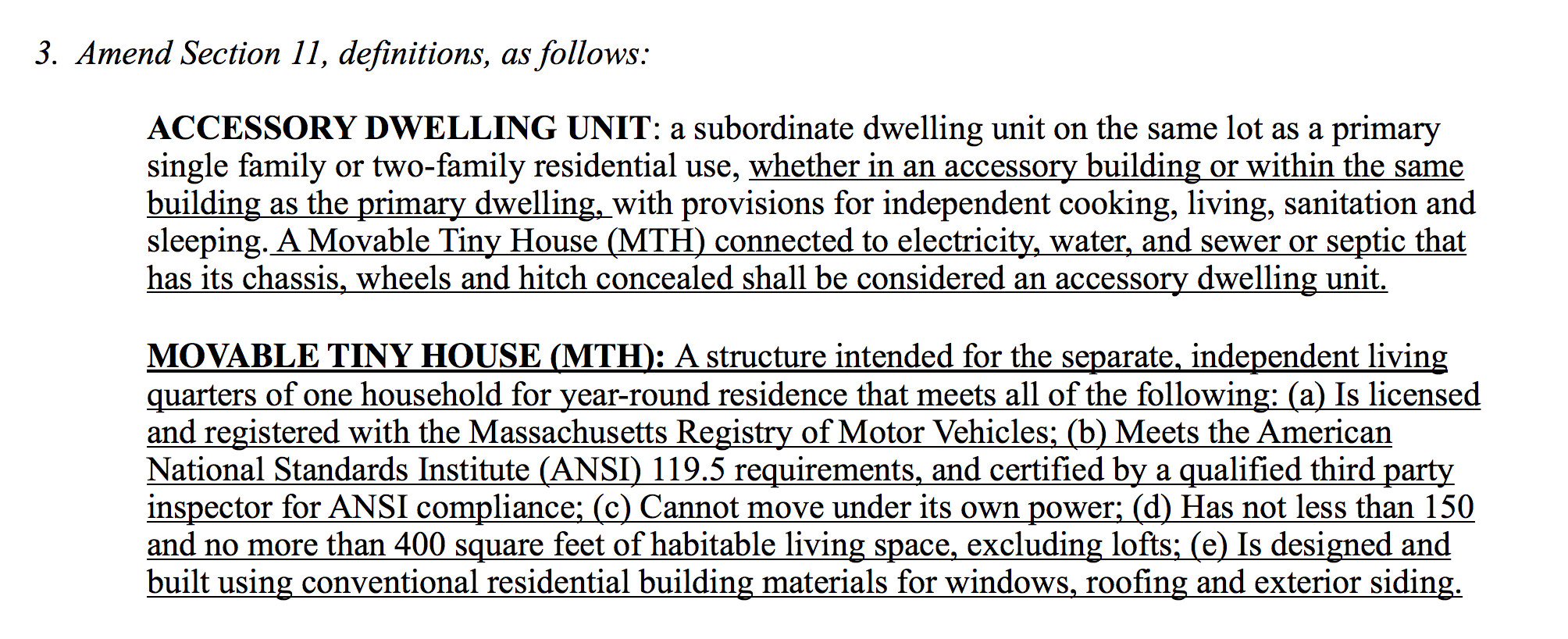 Acronym Key:
MTH: Movable Tiny House
THOW: Tiny House on Wheels
ADU: Accessory Dwelling Unit
---
There will be two tiny house events in Great Barrington:
-Tiny House Open House in the backyard of 65 Anderson Street, Great Barrington, MA 01230. Sunday, May 5, 10am-4pm.
Sunday's tiny house open house is in advance of Monday's Great Barrington Annual Meeting, where a proposed zoning amendment allowing Movable Tiny Houses as accessory dwelling units will be voted upon, among other topics. The open house is hosted by Amy Turnbull who is on the leadership team of the American Tiny House Association, with a movable tiny house built by Tony Indino of East Granby, Connecticut (this house is shown in the event flyer). This open house will give a glimpse into what backyard tiny houses might look like in Great Barrington if the Movable Tiny House Amendment passes.
-Great Barrington Annual Meeting & Vote at Monument Mountain High School Auditorium, 600 Stockbridge Rd, Great Barrington, MA 01230. Monday, May 6, 6:00pm.
Please attend the Annual Meeting on Monday in support of allowing movable tiny houses in Great Barrington backyards. The proposed amendment language is posted in the comments. All those who are registered to vote in Great Barrington may vote on the amendments.
https://bbtinyhouses.com/wp-content/uploads/2019/04/benjamin-davies-Zm2n2O7Fph4-unsplash-scaled.jpg
1707
2560
Rick Porco
/wp-content/uploads/2019/09/badgelogo.png
Rick Porco
2019-04-17 12:39:14
2021-09-28 11:27:01
Great Barrington, MA Will Vote On Backyard Tiny Houses May 6