The Wood-Framed B&B Tiny House Shell – A weather-tight shell on wheels that's ready for you to finish.
Are you confident in your construction skills and interested in building a DIY tiny house? The B&B Shell is the simplest and safest way to get started. Built atop a road-ready trailer that comes with it's own certificate of origin, The B&B Shell is delivered to your door fully constructed and weather-tight with framed and sheathed walls, a roof, and a sub floor, ready for you to finish.
The B&B Shell is currently only being offered in multiples.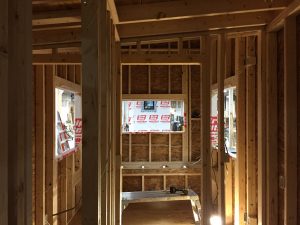 Choose from our existing floor plans or have us create a custom-designed shell.
Choose from our steel framed tiny house designs or our wood frame tiny house designs; we'll finish the house as much as you want, leaving you to DIY the rest.
Water-tight shells ensure your tiny house won't be damaged by the weather.
DIY tiny house builders who don't have covered workspaces with at 14′ tall garage doors risk their houses being water-damaged by rain, snow, or ice.  Weather-proofed shells ensure the interior is sealed against precipitation while the house is being worked on.
Choose a Basic or Upgraded B&B Shell.
Basic B&B Shells have a watertight exterior including framing, sheathing, subfloor and roof, leaving you an unfinished interior to DIY.  Door and window openings are covered by house wrap or plywood.
Or, get an Upgraded B&B Shell with all of the above plus windows, doors, plumbing, and electric.
Ensure your DIY tiny house on wheels is built on a durable trailer and frame.
Have peace of mind knowing that your DIY tiny house is built with sturdy steel or wood framing and a trailer designed and built specifically for tiny houses.  Every trailer comes with a VIN number and can be registered.  Please note, we can't get your work certified by the Recreational Vehicle Industry Association (RVIA) unlike our complete, turnkey tiny house builds, but everything that leaves our shop is built to the highest standards.
Ask us about SIPs: structural insulated panel construction as well!