Ready to schedule a design session for your tiny house? Here's what to expect.
---
Before Your Design Session:
1. Get an idea of what you'd like in your tiny house and how much you want to spend.
Tiny house design sessions can happen either via Skype or in person at our workshop in North Adams, Massachusetts.  To prepare for your design sessions, many people like to schedule a visit to our workshop if we have a tiny house to show visitors, or look through our photos and videos of our tiny houses and check out the customization options, which are listed in each category from the least expensive to most expensive.  Finally, customers like to get a ballpark estimate from our Instant Estimate Generator.
When you're ready to schedule your design session, contact us.
2. Choose your Fee Structure.
If you'd like to save money on your tiny house, start by choosing an existing design.  If you love our existing designs, all you'll have to do is choose the colors and materials: making these choices are free and your design session won't cost anything.  Our designer and builders already have experience with our existing designs, cutting way down on labor time which saves you money.
If you'd like to make changes to an existing design, we can make a couple tweaks to the blueprints for the Design Alteration fee.
If having a custom-designed house is a higher priority than sticking to a set budget, we can work with you to create a tiny house from scratch for the Original Design fee.  Original designs cost more money because they require more time to design, ensure certification, and to build.
See the design alteration and custom design fees here.  Scroll to "Pricing for Customizations & Alterations" about halfway down the page.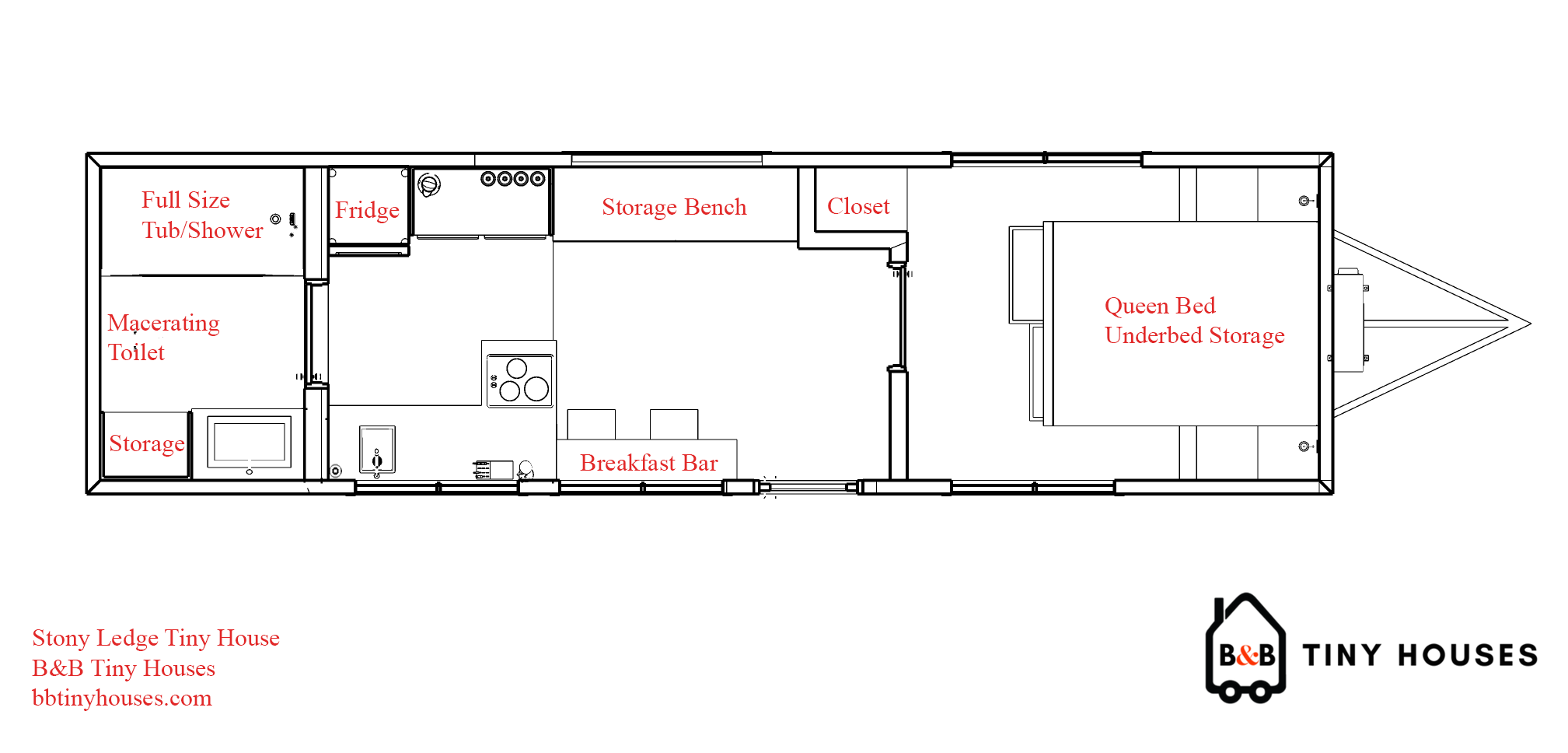 Pictured: Floor Plan of the 8.5′ x 30′ Stony Ledge Tiny House (without dimensions)
During Your Design Session:
We'll start our design session by finding out how you plan to use your tiny house.  Will you travel with it?  Will it be used as a permanent residence, guest house or vacation home?  Do you plan to host visitors?  Do you love to cook?  Is physical accessibility a priority?  We'll end up designing your house differently according to whether you need water tanks, whether you'll move your house often, or whether you'll use solar power, so we like to know up front what your plans are so we can design around them.
Next, we'll ask you for your ideas on how you'd like to customize your tiny house.  We'll advise you on what is and isn't possible for your design regarding space constraints, conformance to the standards we build to, and maximizing the efficiency and livability of your tiny house.  If sticking to a budget is a priority for you, we'll suggest ways to get the best bang for your buck (overall, the simpler the plan, the less money you'll have to spend on it).
When we've finished discussing the layout of your tiny house, we'll go through all your choices for fixtures, materials, and colors.  Sometimes this happens during the design session and sometimes it happens later on, after you've received approval to have your tiny house built (more on that in the next section of this post).
After our design session, we'll spend a week or two drawing up your plans.  From your plans, we'll create renderings.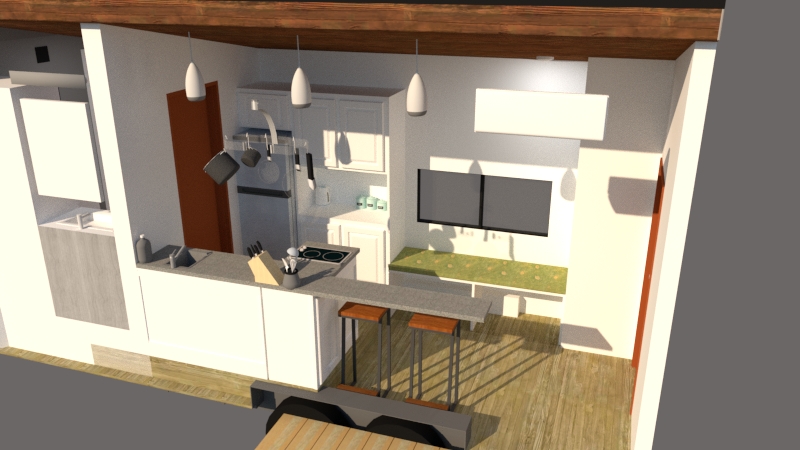 Pictured: Exterior and Interior renderings of the Stony Ledge Tiny House.  The interior was altered slightly after these renderings: the two-burner electric cooktop changed into a three-burner propane stove and oven with a range hood, the pot rack was removed, and the cabinetry next to the fridge was altered to make the house feel more spacious. 
After Your Design Session:
When we're finished designing your customized tiny house, we'll send you the plans showing you the dimensions of your tiny house as well as 3-D renderings so you can envision what it's like to walk though your house.
At this point, you may have to show your plans to another entity that controls your land, like your potential landlord or the building inspector and/or zoning board of the municipality where you'll put your tiny house.
When you're ready, we'll have another chat where you can either approve your plans or discuss further alterations.  Design fees include two free alterations.
If you're ready to move forward with having your tiny house built, we'll send you a construction contract to sign.  Once we've received your first payment we'll be able to start ordering the materials for your house and building it.
Ready To Schedule Your Own Tiny House Design Session?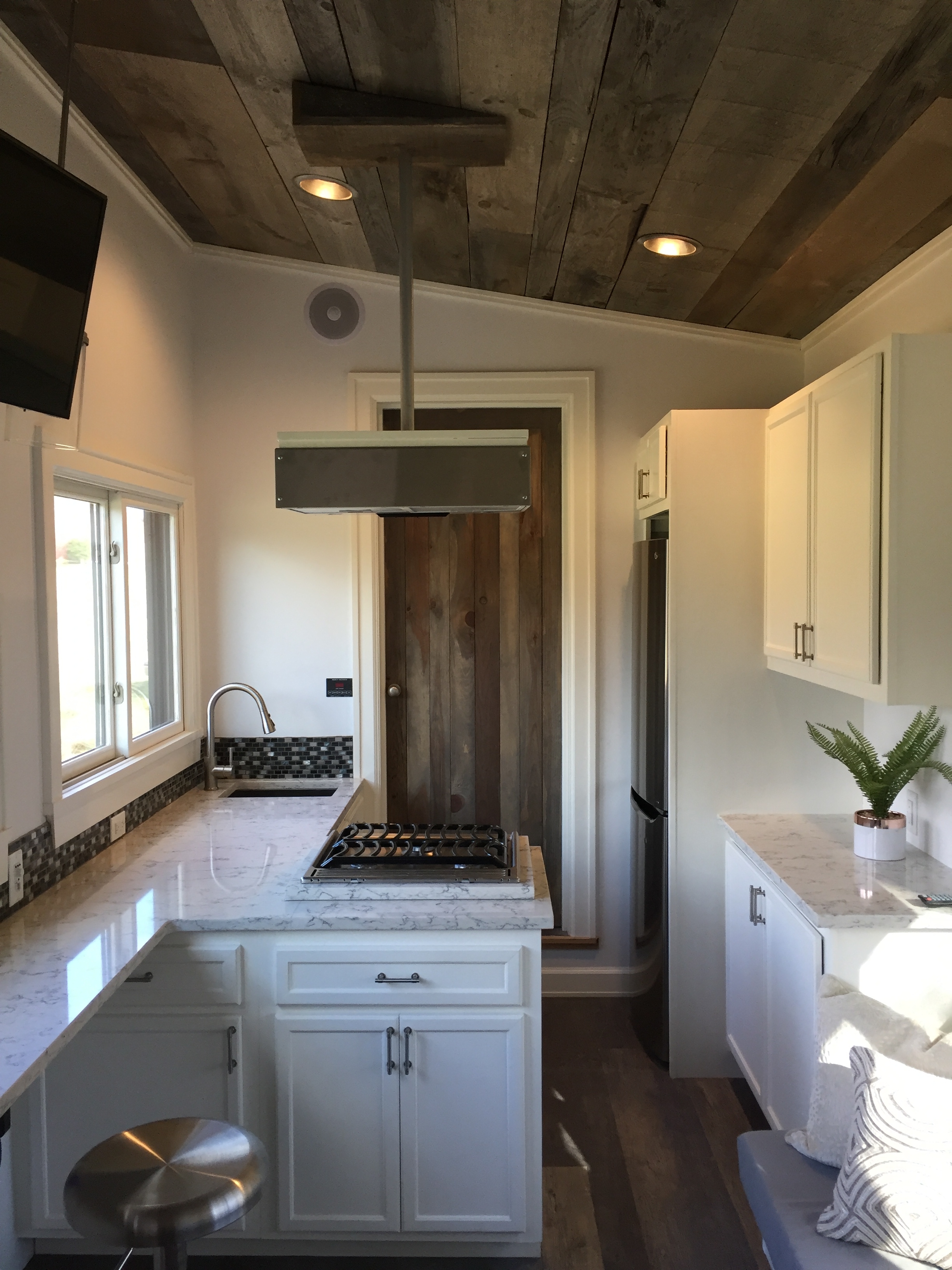 Image: Completed Kitchen in the Stony Ledge Tiny House, showing the three burner cooktop with range hood and altered cabinetry. 
https://bbtinyhouses.com/wp-content/uploads/2019/05/Copy-of-Tiny-House-Design-Session.png
1080
1080
Katie Jackson
/wp-content/uploads/2019/09/badgelogo.png
Katie Jackson
2019-05-15 12:58:42
2019-05-15 13:19:06
Tiny House Design Sessions