CUSTOMIZE YOUR TINY HOUSE
Exterior Siding
Vinyl
Least expensive option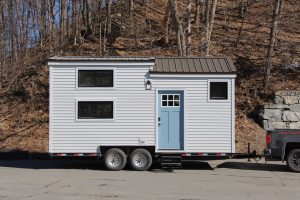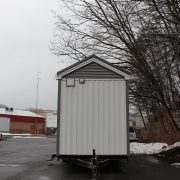 Available in many colors and styles, such as clapboard (shown left), board and batten (shown right), or shingle-look.
---
Vertical solid wood shiplap, (available on selected models) painted, stained, or shou sugi ban (Japanese Woodburned)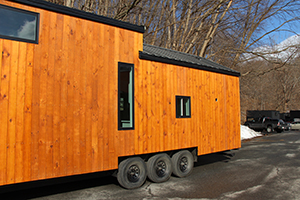 In this photo: stained vertical wood shiplap, Cetol #005 Natural Oak
---
Ribbed Metal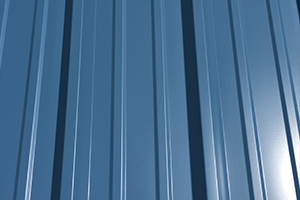 In this photo: Ribbed Metal Siding shown in Hawaiian Blue.
Choose from 22 colors.
We can do allover metal siding or panels of metal mixed with wood shiplap.
---
Solid wood clapboard, painted or stained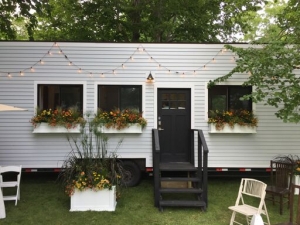 In this photo: painted wood clapboard
---
If you'll be towing your house often, consider that Vinyl and Metal are the lightest siding options.
Roofing
Asphalt Shingles
Least expensive option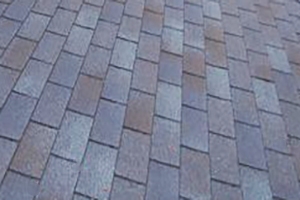 ---
Ribbed Metal Roofing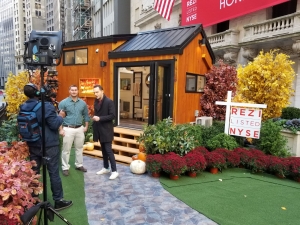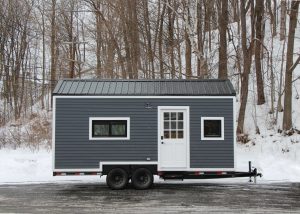 Available in 22 colors
Interior Walls and Ceiling
Wood shiplap, unfinished, stained or painted
Least expensive option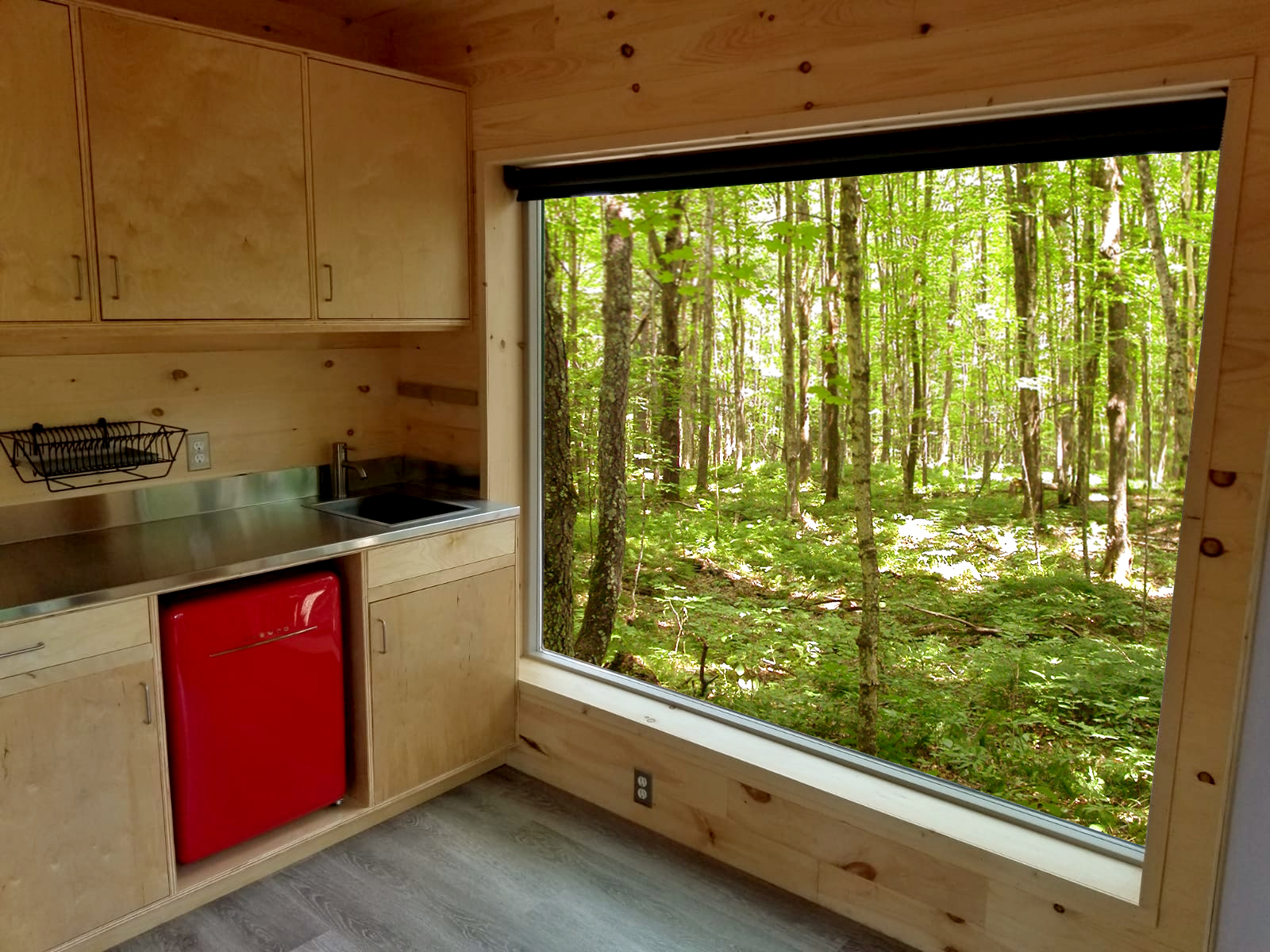 In this photo: unfinished wood shiplap walls
---
Drywall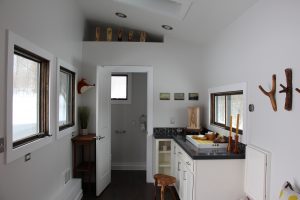 In this photo: drywall walls and ceiling
Flooring
Engineered plank flooring is standard:  it's durable, beautiful, and pictured in all our models.  Available in many colors.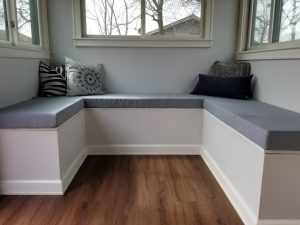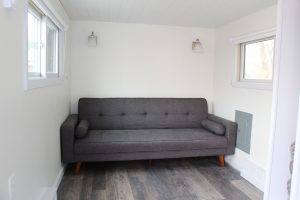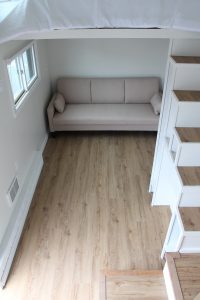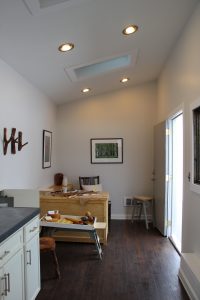 Cooking
Electric two-burner built-in cooktop
Least expensive option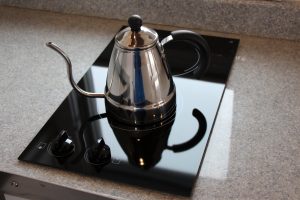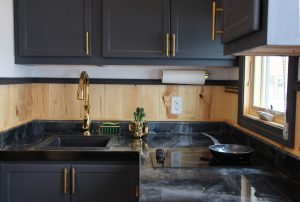 ---
24″ wide Summit Electric range (available in park models)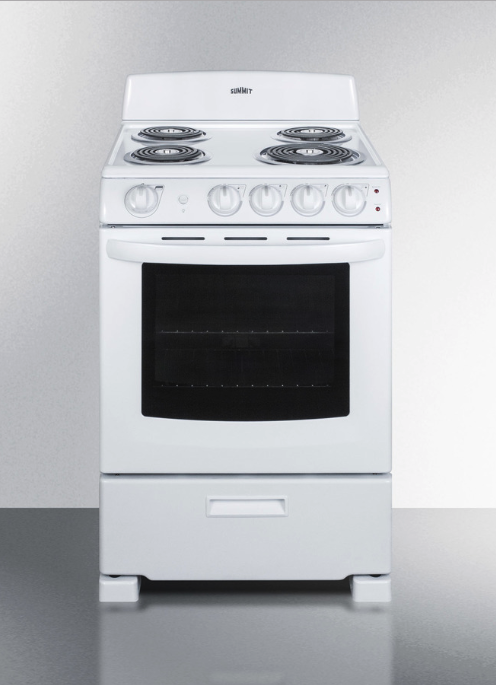 Please note, the propane/electric 24″ range we previously offered has been discontinued. 
Refrigerator
Mini-fridge
Least expensive option
4.5 cubic ft, 21″ W x 33″ T.  We build a space for this fridge into the kitchen cabinetry.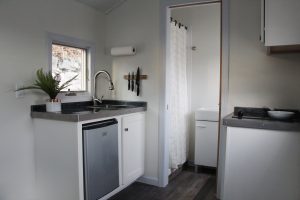 ---
Apartment size fridge
10.1 cubic ft., 24″ W x 68″ T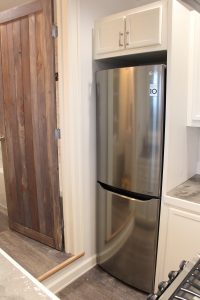 Available in some models
---
Under-counter refrigerator and/or freezer drawers
5.4 cubic ft. for two stacked as shown, 24″ W x 34″ T
Available in some models
Countertops
Wood
Least expensive option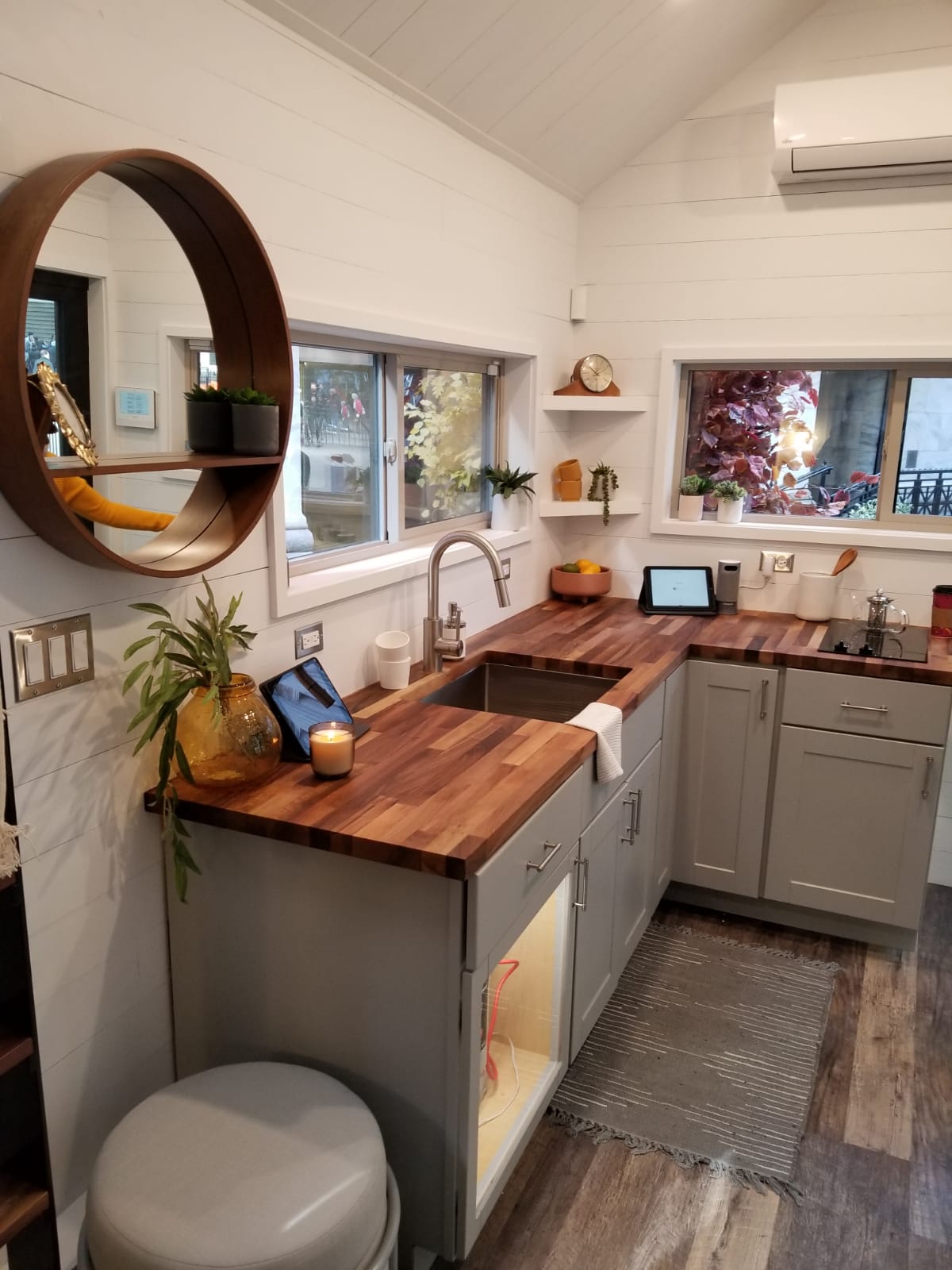 ---
Stainless Steel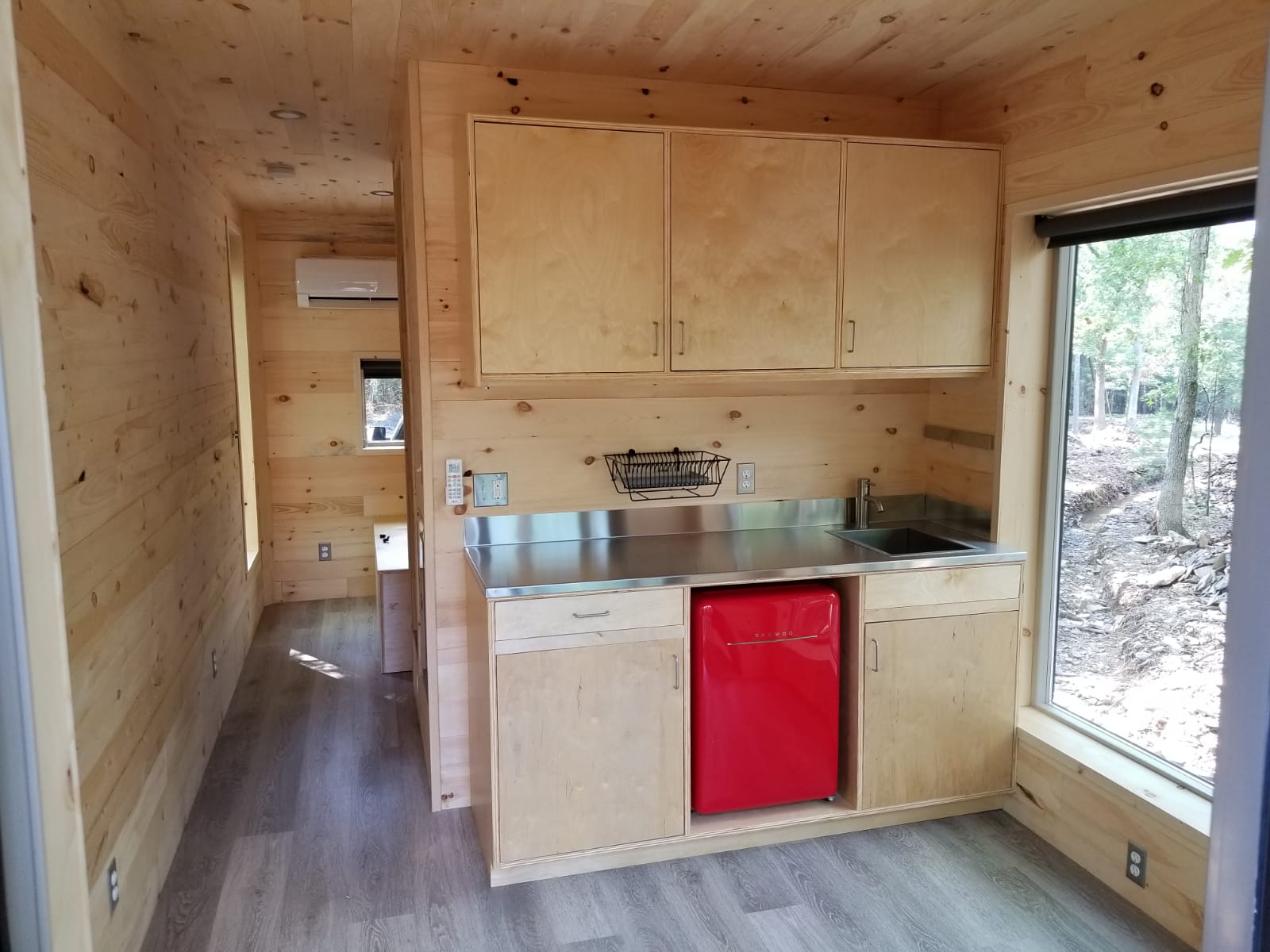 ---
Corian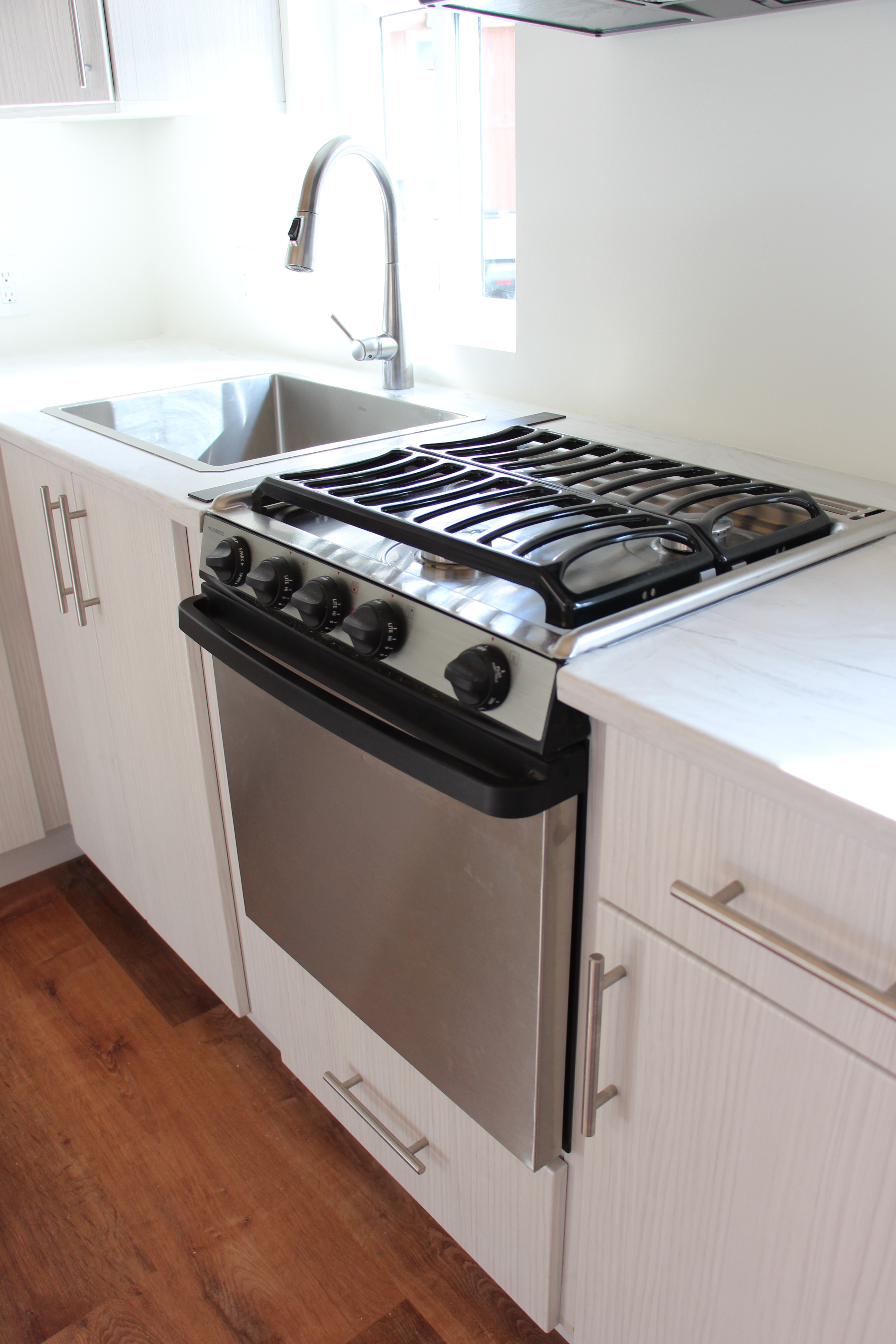 In this photo: Limestone Prima
---
Stone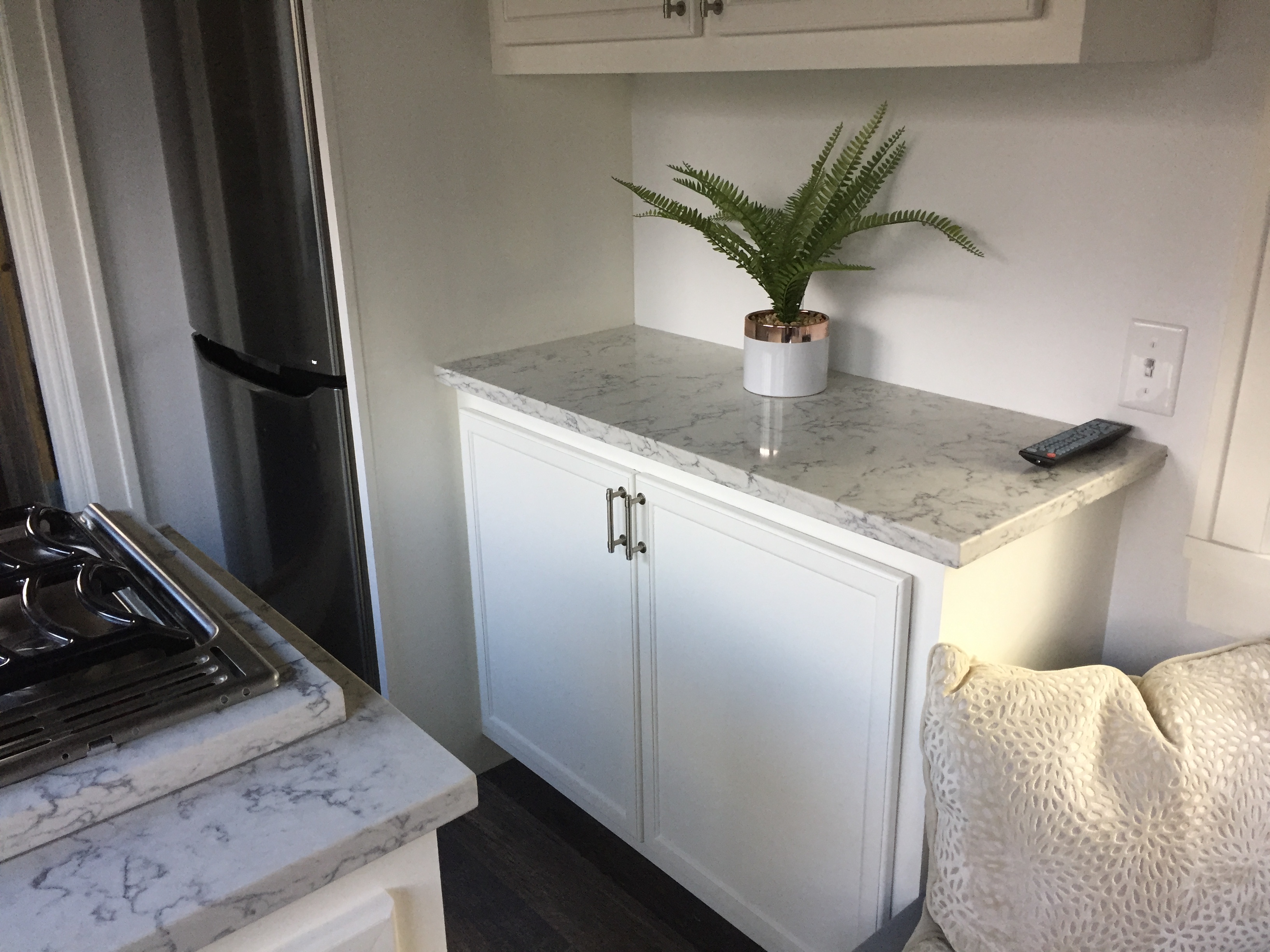 In this photo: Quartz
Cabinetry
Cabinet Style:
Flat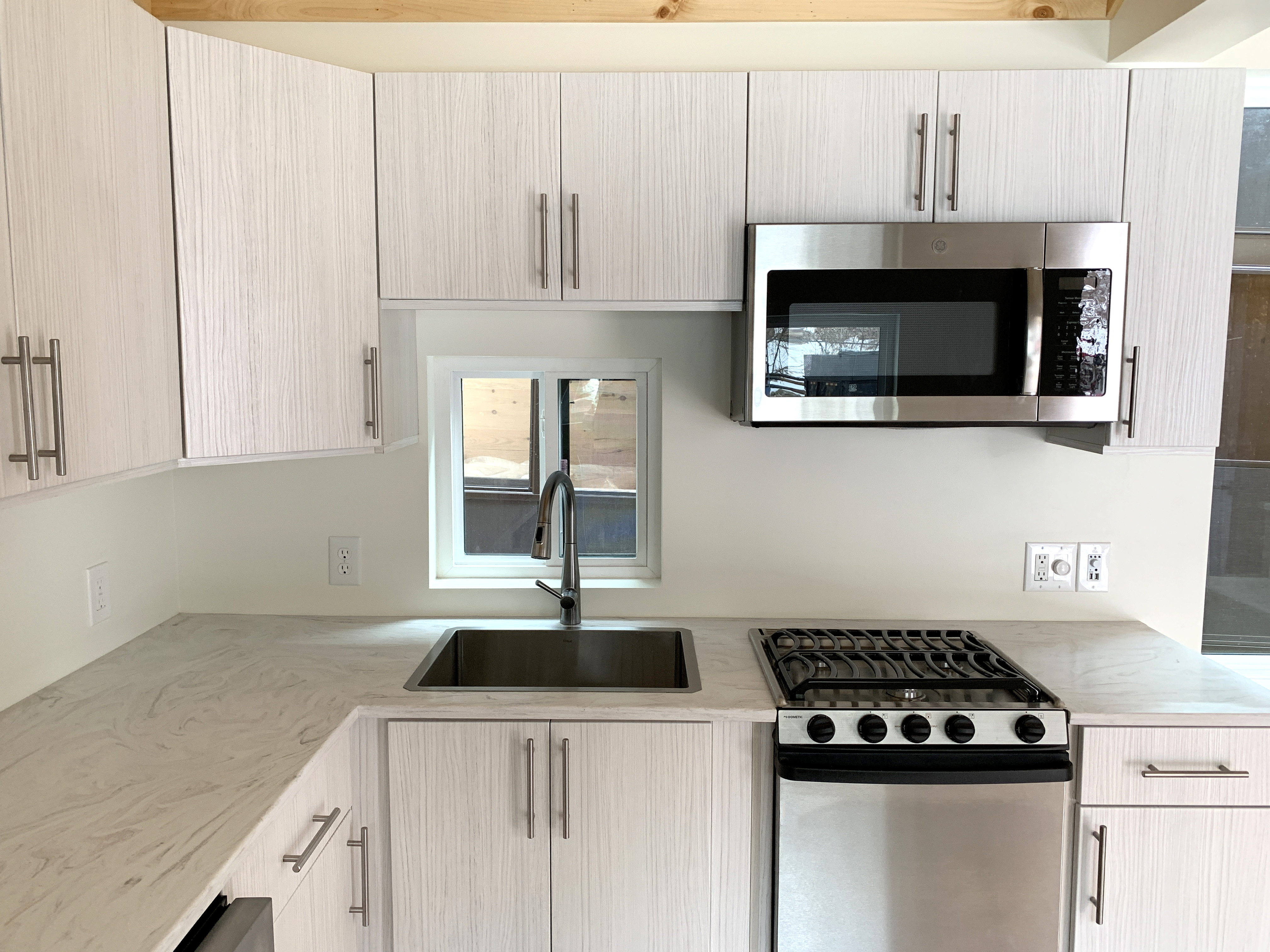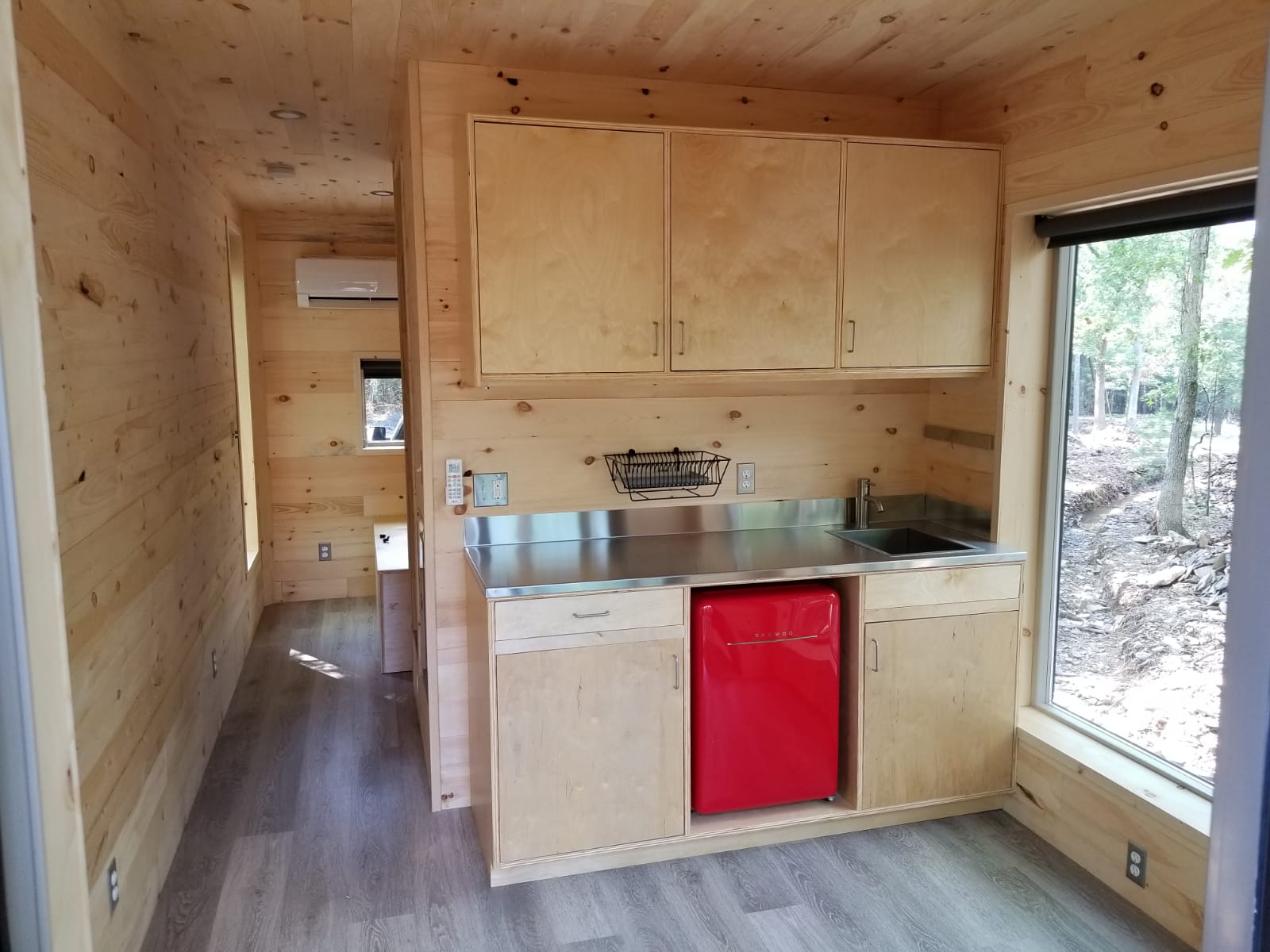 ---
Shaker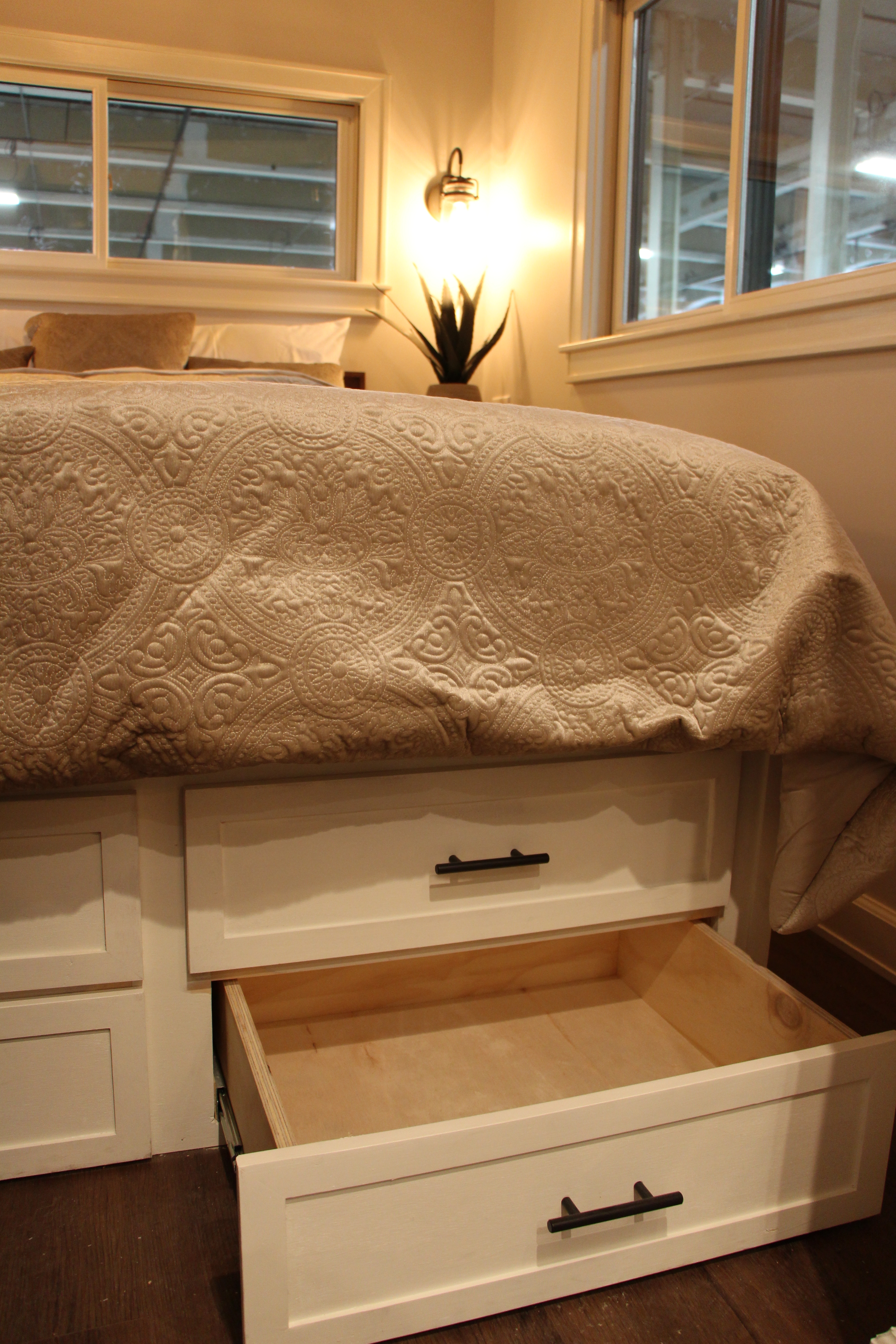 ---
Traditional Raised Panel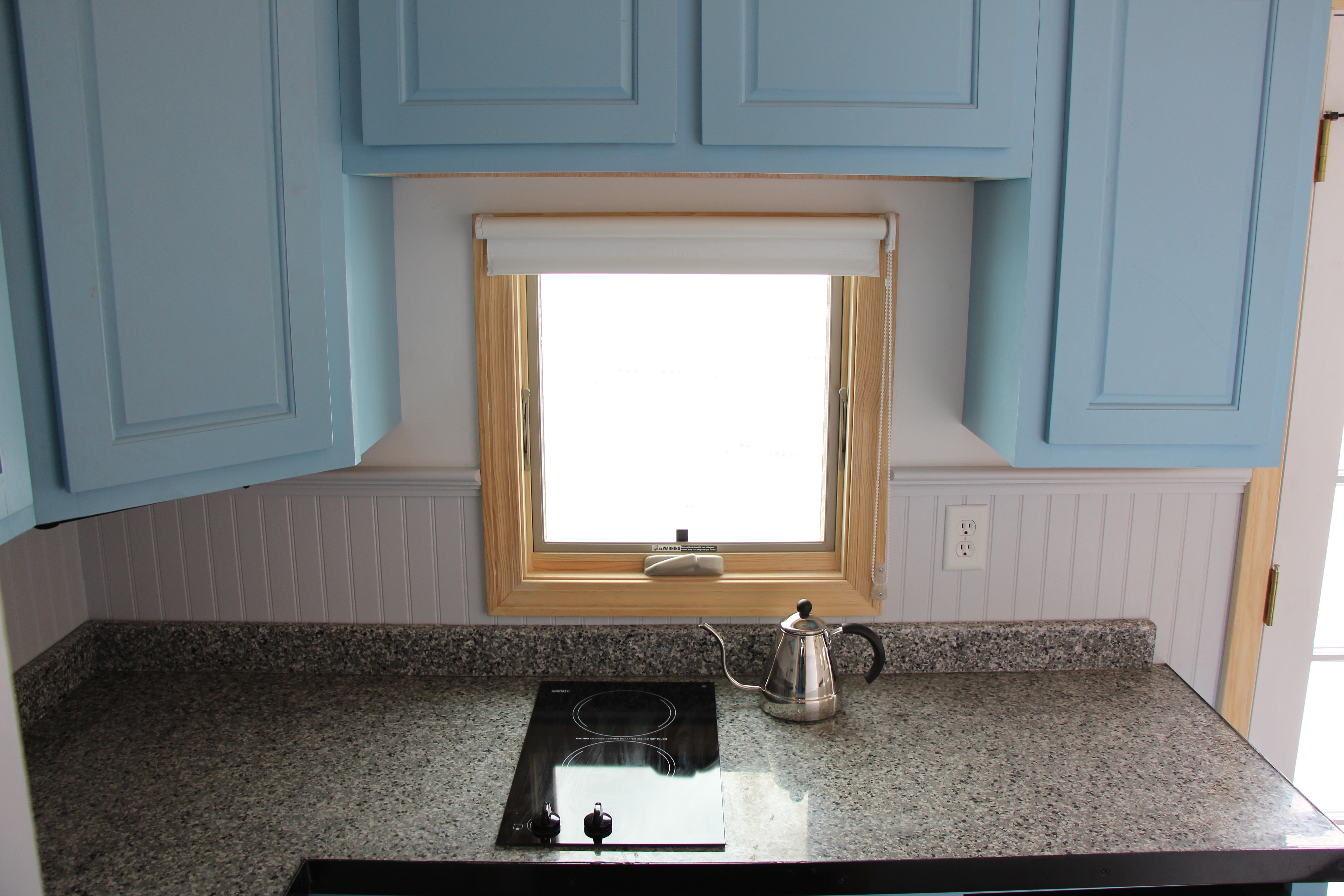 Bathing
Shower with vinyl insert
Least expensive option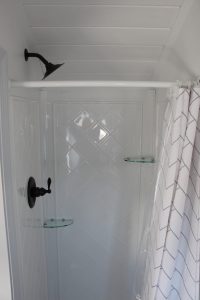 ---
Shower with tiling (choose ceiling-mount rain shower head or wall-mount shower head)
---
Shower/tub combo with tiling
Tubs are available where they can fit into the design.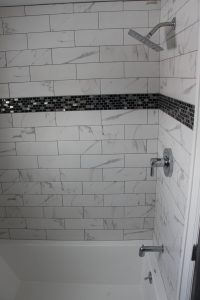 ---
Optional: add an outdoor shower head
Toilet
A note on choosing your tiny house toilet: consider whether the house will move and whether the locations will have electric and water hookups.  Read more about tiny house toilet options here. 
Laveo Dry-flush Toilet: less expensive up front, more expensive per flush over time: about a dollar per flush.  Uses electricity to flush but no water.  Uses a disposable cartridge that includes about 15 "flushes".  Seals waste which can then be thrown out in the trash.  Great for weekend/vacation houses.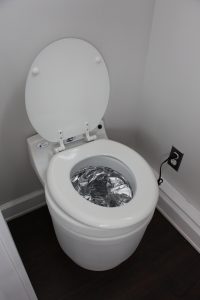 ---
Traditional flush toilet- use if your house will be permanently in place and directly tied into a septic or sewer system.  Uses water but no electricity.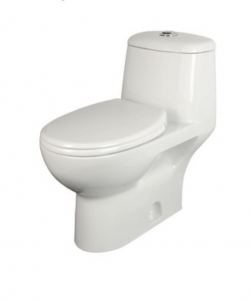 ---
Macerating Toilet: Use if you have water tanks.  The macerator uses water and electricity to grind up the waste into a liquid emulsion so it can be stored in the black water tank and then pumped out.  Macerating toilets are recommended for those who will be traveling with their houses.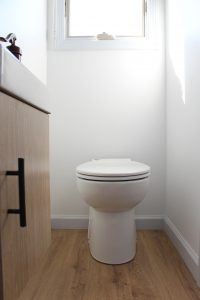 ---
Composting Toilet: This toilet doesn't use electricity or water, but you'll need a place to put your waste to compost.  Check in with your town to see if Humanure composting system is allowed.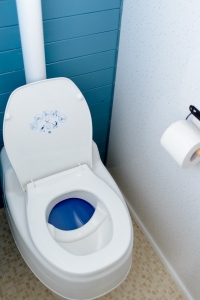 ---
Incinerating Toilet: Does not use water and doesn't drain, but uses electricity to incinerate the waste. A bowl liner is placed into the bowl before use, and when the flush button is pushed, it incinerates all the waste into ash.  The ash is periodically dumped out.  Incinerating toilets use a lot of power in short bursts when "flushed", so they are not compatible with solar power.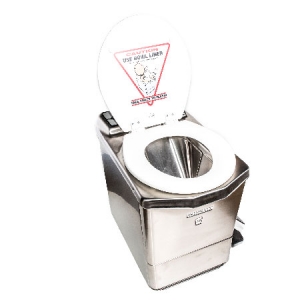 Fixtures and Colors
Choose any paint and stain colors. Choose any kitchen & bathroom fixture (as long as it meets RVIA standards).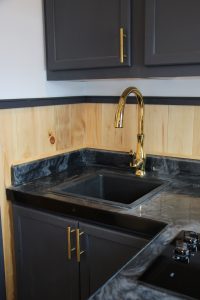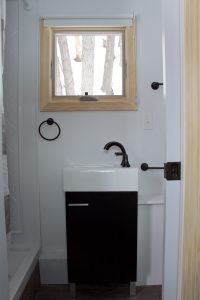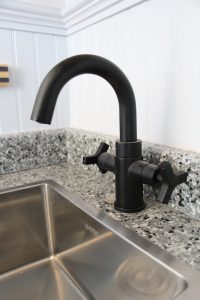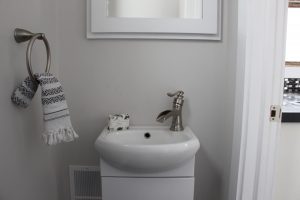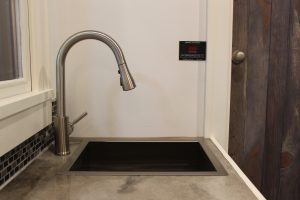 Washer/Dryer
Only available in models designed for washer/dryers. 
Stacked Washer and Dryer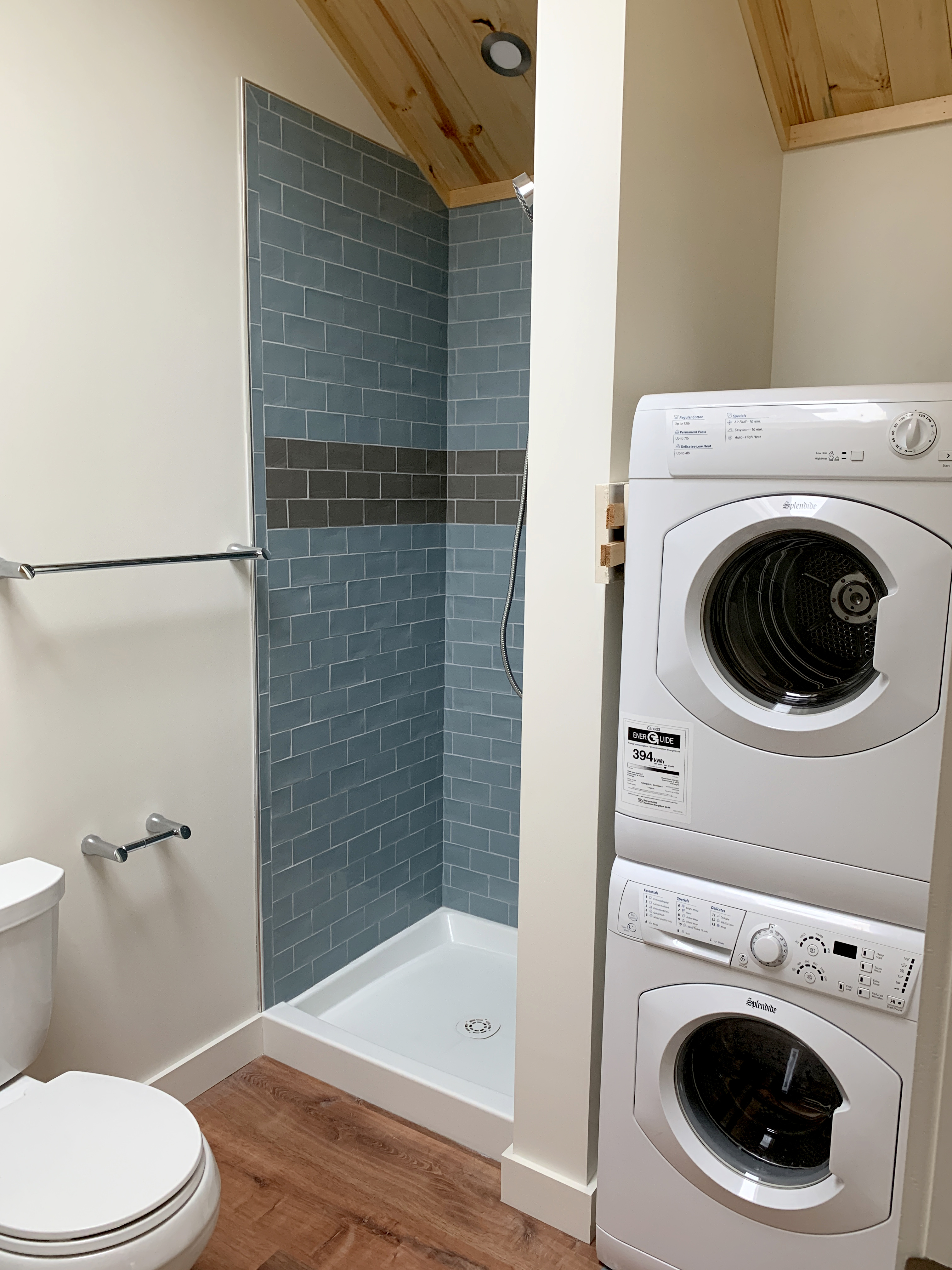 ---
Washer/Dryer Combo (pictured at left)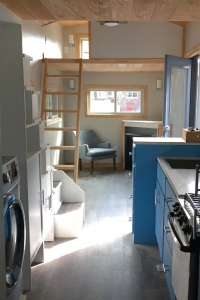 Heating and Cooling
In-wall electric heater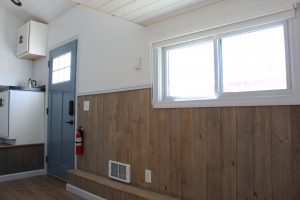 ---
In-wall electric air conditioner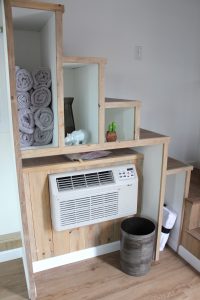 ---
Minisplit (electric heating & cooling)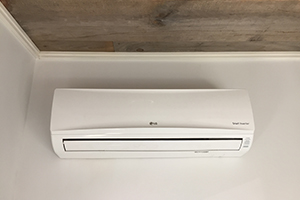 ---
Solar Power Systems
We don't provide solar power, but it can be hooked up to tiny houses.  Please contact your local solar provider for a quote.  Alt-E Store has great info on tiny house solar systems.  If you choose solar power, your appliances and energy use will need to be compatible with your system.
Entry Stairs
Fold-away stairs (great for houses that travel often)
Least expensive option.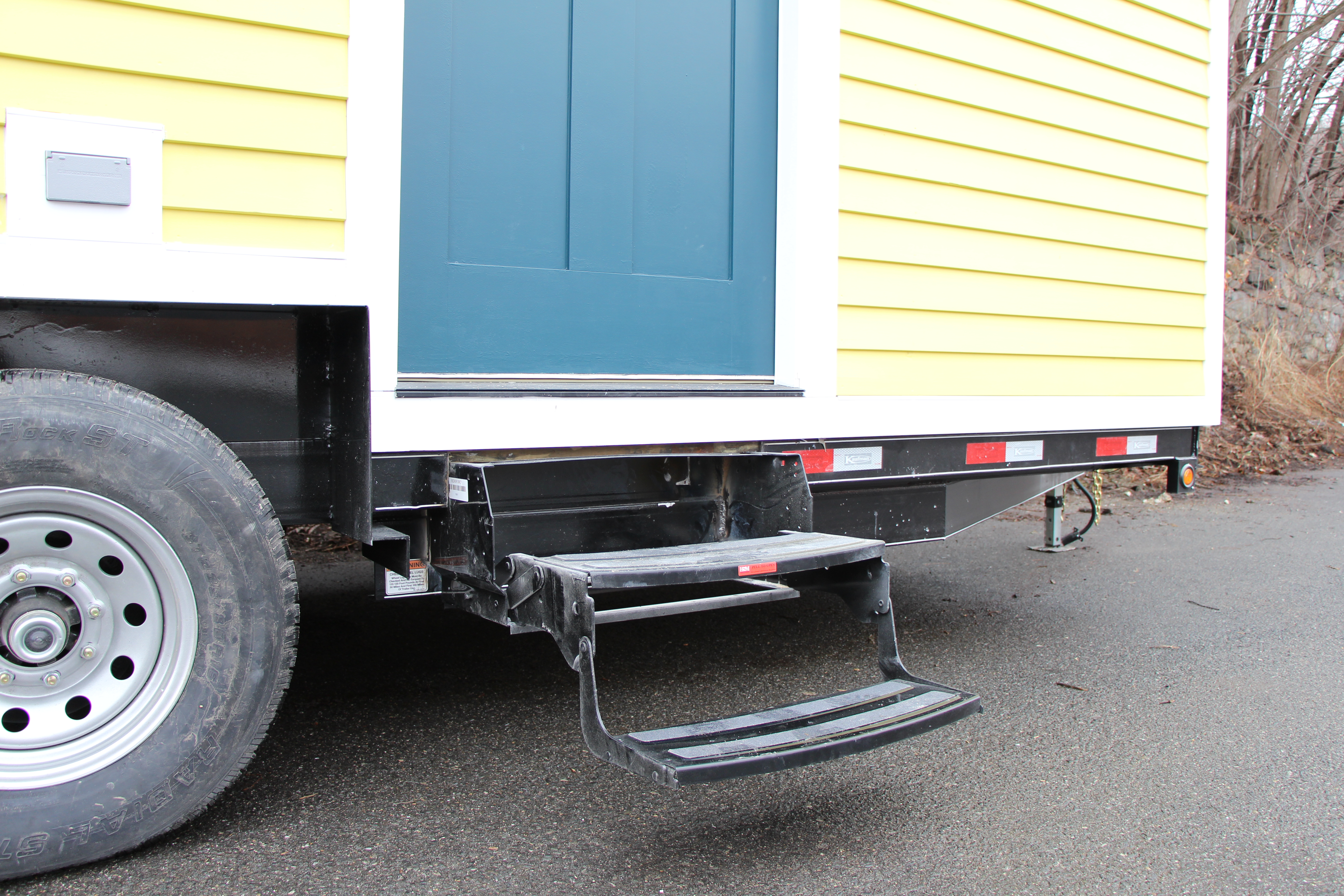 ---
Wooden stairs; no handrail
---
Wooden stairs with handrail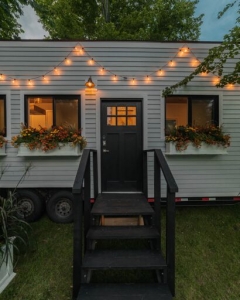 ---
Deck or Porch with stairs (any size): regional availability or build your own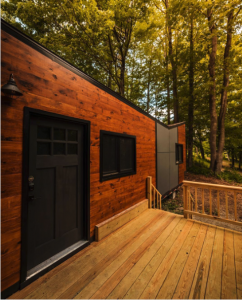 ---
Ramp:
ADA-compliant ramps have a 1:12 pitch, which means for a typical tiny house entryway that's 24 inches off the ground, a wheelchair ramp would need to be 24 feet long.  This is do-able.  We've also parked a tiny house next to an embankment and built a 4′ bridge over the gap.  Speak to us about your accessibility requirements and we'll work with you to come up with creative solutions.
Prices are approximate.  Many factors such as material availability and our build schedule fluctuate throughout the year.  We will provide your final quote after your design session.
Materials, colors, light fixtures, cabinet pulls, and bathroom fixtures style, are always free: the pricing for your choices will be reflected in your personalized quote after our design session. 
For example, if you choose a light fixture that's more expensive than usual, we'll add the material cost of that light fixture to your quote.  However, we won't charge you a design fee for your light fixture because the blueprints of the house aren't changing, and generally, it takes the same amount of labor to install a regular light fixture versus an expensive one.
Entirely Original Designs 
Please contact us for a quote on a fully customized project!
When you're ready to get started, contact us and we'll schedule a tiny house design session, where we'll go over all your options and prepare a quote for you.