Types of HVAC Systems
You've got many different options when it comes to picking out which type of AC and heating system you would like. When deciding which system to choose, it's important to note factors like the climate, specific use, location, ease of convenience, and cost. All tiny home owners should make sure a professional installs or checks their HVAC systems, so that you can ensure your tiny home is a healthy environment to live in.
In Wall Electric Heater and Air Conditioning
In wall electric heaters and air conditioners are a popular choice for your tiny home. They are relatively cheap and will get the job done. Some tiny owners may choose another option, however, due to the fact that they take up precious space that could otherwise be utilized in your tiny home. In addition an in wall system, because it takes up a significant amount of space, can affect the overall aesthetic of your tiny home.

---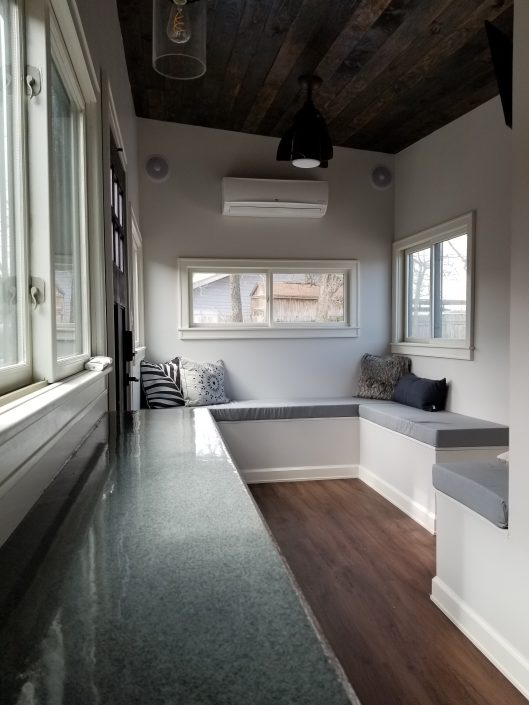 Mini-Split Heat and Air Conditioner
Mini-splits are the ideal choice for most tiny home owners. Mini-splits function like traditional homes' HVAC systems in that the condenser is placed outside the home and the fan is placed inside the home. The obvious benefit to this is that it frees up space in your tiny home and becomes less of an eye sore when compared to a window or in wall heater. Mini-split units are also very energy efficient. Read more about finding the most efficient heating and AC units. Although these systems are more energy efficient, they require a higher cost upfront. 
---
Window Air Conditioners
Window air conditioning units are a cheaper option than in wall or mini-split heaters and can be easier to install. There are many energy efficient options on the market, which can help lower your monthly utilities bills. One drawback to this option is that it will be an even bigger eye sore than in wall systems because they will not blend in with your tiny home.
---
Traditional Fans and Electric Heaters
If you are only going to be living in your tiny home during a particular season or live in mild climates, you may be thinking about using fans or plug-in electric heaters in your tiny home. With this option as your only source of heating or cooling, you may run into problems with moisture and ventilation. If there is excessive moisture, then you can run into problems with mold. Click here for more about the health considerations about indoor air quality.

https://bbtinyhouses.com/wp-content/uploads/2019/03/victor-UoIiVYka3VY-unsplash-scaled.jpg
2560
2048
Rick Porco
/wp-content/uploads/2019/09/badgelogo.png
Rick Porco
2018-06-20 14:36:55
2021-09-28 12:49:09
Picking Out the Best AC and Heating System for Your Tiny Home