Fortunately, there are multiple ways to get financing and save up for your tiny house, whether it's a turnkey RVIA certified Tiny House on Wheels or a DIY shell or frame.
Choosing the Best Tiny House for You
Tiny Houses on Wheels Vs. Tiny or Small Houses on Foundations
Before we talk about the best way to finance your tiny house, let's talk about the different types of tiny houses. Please note that securing finance for your tiny house will have different processes depending upon if your tiny house is on wheels or on a foundation. Permanently-affixed tiny houses will be able to get traditional construction loans which can include site work. For this article, we will be focusing on financing a tiny house on wheels.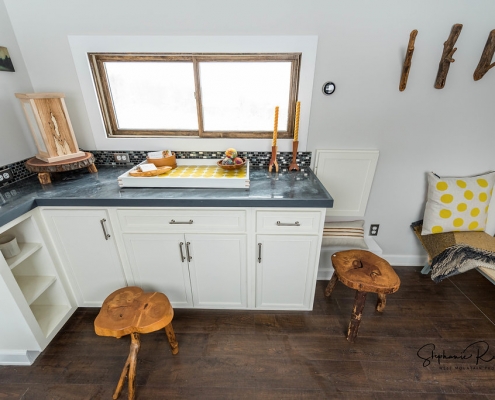 The Brodie Mobile Office photographed by Steph Rapsiarda
Tiny House on Wheels: Price Difference Between Original or Off-The-Shelf Design
Building a tiny house of your original design through B&B allows you to create the exact tiny house that you're envisioning, but due to economies of scale—i.e. custom houses taking longer to build due to the fact that each one is unique and not able to be mass produced— this option can be quite costly. The second option is to buy a pre-designed tiny house. There is a wide variety of options and at B&B we will allow you to customize materials, colors, and appliances (click here for all of the customizable options at B&B). This is a great option for those that want to stay on budget and still put their personal touch on their tiny house.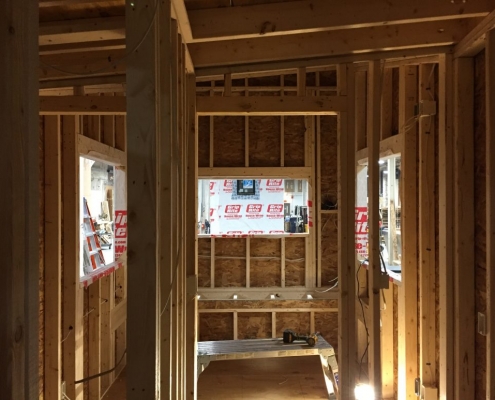 DIY Tiny House Frame
Build Your Own Tiny House Using a Shell or Frame Kit
The third option is to buy a wood-framed tiny house shell. A tiny house shell has the exterior complete and the interior incomplete. Shells can have windows, doors, plumbing, and electric complete or incomplete depending upon your needs and budget. Lastly, you have the option to buy a steel frame kit for your tiny house. This option ensures that you have a professionally built frame and allows you to customize your tiny house how you please; however, we do not recommend DIY options for anyone that does not have construction experience.  The shell and steel frame option are not certified by RVIA, meaning that it would be more difficult to get a loan. Both of these last two options can be a great choice for someone that wants to complete their tiny house by themselves or wants to self-finance their own tiny house in stages. The RVIA cannot certify shell or frame kit options because the tiny house will not have been finished in a RVIA certified location; however, it may be possible to get a personal loan for the shell or frame kit.  
If you are DIYing your tiny house, consider all the costs associated with building, not just the materials cost.
Are You Financially Ready To Own A Tiny House?
Consider Your Total Tiny House Cost– Not Just Monthly Loan Payments
Once you have decided on the best tiny house option for you, you will have a better idea of the loan you will need.  Because B&B is RVIA certified, you would be qualified to apply for an RV loan for any of our turnkey tiny houses on wheels. When determining your tiny house budget, you will also need to consider monthly costs such as electricity, maintenance, insurance, and where you will be keeping your tiny house.
Read our article on the all-in costs of a tiny house versus a traditional house. 
In addition, if you need site work–grading, clearing trees, adding a pad–or infrastructure–fresh water, waste water, and power–you'll need to consider these costs in your total budget. You will want to estimate these costs before you decide the amount of the loan you're willing to take out. Just like a home mortgage, your income, credit score, market factors, and down payment will all affect the terms of your loan. After you're pre-approved, B&B will schedule a design session with you in order to get your final quote.  

 The Brodie Mobile Office photographed by Steph Rapsiarda
4 Ways to Get the Best Loan for Your Tiny House
Improve Your Credit Score 
Improving your credit score will help you lower your monthly payment. This is because the bank views those with higher credit scores as being more reliable and thus will give them better rates and bigger loans.  Here are 11 ways to improve your credit score.
Save for Your Down Payment
The more that you save for your down payment, then the lower your monthly payment will be, so start adding to your tiny house piggy bank!
Choose the Best Tiny House Type For You, then Choose Your Floor Plan
After you've chosen the best type of tiny house for your needs, whether it's a DIY frame, shell, or a turnkey tiny house that's move-in ready (and RVIA-certified), you'll be able to get an estimate on the floor plan you want and start researching your loan options.
Shop Around
It's a good idea to contact a few different financial institutions to get the best deal for you.  Check out all your tiny house financing options here including getting a Tiny House Loan through Adams Community Bank, an RV loan through Lightstream, and a personal loan through your own bank or credit union.
https://bbtinyhouses.com/wp-content/uploads/2019/02/fabian-blank-pElSkGRA2NU-unsplash-scaled.jpg
1707
2560
Rick Porco
/wp-content/uploads/2019/09/badgelogo.png
Rick Porco
2018-07-16 14:57:54
2021-09-28 12:44:54
Are You Financially Ready To Buy A Tiny House? 4 Ways to Get the Best Loan for Your Tiny House